What can we learn from Tom?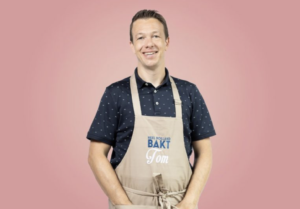 It was only half a year ago, I stared at my friend Peter in bewilderment when he admitted he was a fan of the Dutch equivalent of The Great British Bake off. How could anyone like such a dull, far from hip program? This was really beyond my understanding.
And see me know. I discovered there is nothing better than to cook my dinner and have "Heel Holland bakt" on, as it is called in Dutch. It is so comforting to shell beans after a long day of hard work and not be the only one. You feel as if you are in it together.
And what is even better, your cooking job seems easy peasy, when you compare it to your fellow bakers. That has a doubling comforting effect. For, how wonderful it is to place your perfectly warm, fragrant dinner on the table whilst your telly comrad has to get their black baked madeleines from the oven.  In other words, you shine in comparison.
Some weeks ago, something interesting happened. Whereas the bakers Seneb and Enzo were strong competitors all along.  They had been dominating the show from the start. Enzo having 2 clips on his apron (you win a clip when you are master baker of an episode) and Seneb even 3.
Now, all of a sudden, Tom (the Belgium guy), who was always dangling at the bottom of the rankings, came into view.
He had experienced quite some challenges in the first episodes. For instance, his red English telephone cell, made of biscuits, broke just before handing it in to the judges. His planning was very poor, so he almost never finished.
All in all, you could say it was quite a miracle he was still in the race midway the challenge.
But, the last 3 shows, it had all changed. He was on time, he impressed the judges with his baking's. He even won a technical challenge.
What had happened with Tom?
---
We had to wait for the answer until the finale. The cat came out of the bag when they interviewed Tom's wife.
According to her it was a shame that it took Tom so long to understand that he really needed to practice and work in a more methodological way. Once, he started doing that, the whole story changed. Instead of dangling in the bottom, he now came out on top and even made it to the finale!
Unfortunately, this story is not so good that he also eventually won the finale. That honor went unexpectedly to Enzo. (Seneb had been the designated winner all along).
But it does show you, what can happen if you make the decision to get serious, practice, learn tools and work in a methodological way. It will boost your skill enormously and things will go smoother and easier at the same time and it will be so much more fun as well.
So, my question to you is:
Are you ready to get serious and bypass your colleagues from the right and the left? Seriously practice and make methods and tools your own, that will give you grip, strengthen your skill and not wholly unimportant, will give you so much more presenting pleasure.
Then apply for my ONLINE module "Designing with Impact" summerdeal, where you will triple your convincing power as a presenter.
You will pay 497,00 euro instead of 750,00 for a month full of knowledge and feedback if you apply within this week from 20 to 27 June.
You will learn:
How to become more strategic and effective in your presentation preparation.
How to make an iron strong presentation design that convinces your audience.
How to present with more ease and joy.
Approach:
You can finish the course within 4 weeks, working from your comfy couch within your own time.
You get quick feedback, so that the pennies will drop, and you will know if you are on the right track.
Bonus:
You will get a bonus of half an hour (zoom session) where you will receive feedback (tops & tips) on online presenting the presentation that you've created, step by step during the course.
What did this course bring to other participants that went before you?
"Theoretical background and knowledge on presenting that I have never had before".
"I learned to connect to my audience so much better."
"It gave me that extra push in confidence."
Interested? Apply by sending an e-mail to info@presentingwithimpact.nl
Do you want to know more about the Online module "Designing with Impact" where you will triple your convincing power? Click on the following link:
https://presentingwithimpact.nl/triple-your-presenting-impact/