We did not want to disappear into the meatgrinder….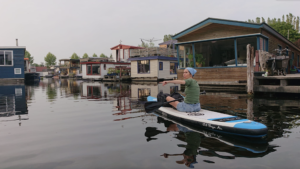 I love all kinds of watersports. Swimming, waterskiing, canoeing, supping, you name it. Everything with water I love. So, after a long cold winter, me and my friend Natascha always eagerly take our boards out of storage. We are more than ready to slide into the water.
As soon as we find ourselves on the water, we look at each other and exclaim, how great it feels to be on the water again. We are a bit like cows that finally run into the big wide-open field after being in the stalls for six months
The best trips are the ones full of adventure. There are always all kinds of obstacles to overcome.
As last Tuesday.
---
Sometimes we are unable to go further, because the canal simply stops, and we need to carry our boards. This is not a simple task, with Natascha's board that weighs a ton. That is why we became very creative in asking for people's help and why we therefore meet all kinds of really helpful and kind people.
"Dear madam, could you keep watch for our boards for a minute?" Yes, of course. "Sir, could you help us for a minute carrying this board? That would really help." "No problem." Hi, could you lend me a hand so I can easily climb the quay." "Sure". Really, people in Amsterdam are truly kind and accommodating, although you might not expect so.
Sometimes, a bridge is so low, that you have to lay on your board as flat as a pancake. Last Tuesday for example my keel got stuck in the mud, while trying to find my way through under a real shallow bridge. Eventually, I managed to get unstuck again, because, I can tell you,  it did not do my claustrophobic disposition any good!
At last, we were waiting full of anticipation near the lock that would give us passage to "het Nieuwe Meer" We were really looking forward to discovering this lake that is situated near "Het Amsterdams bos".
While floating and waiting, we suddenly saw the lockmaster standing above us at the quay, asking us to go through the lock as fast as possible. If we did not want to end up in the rotating screws of a giant cargo ship that was approaching us from the other side, we had to row through the lock like crazy. This was a warning we really took at heart, because we did not want to end up in the meatgrinder.
After all these tests of strength we had finally arrived at "De Nieuwe Meer". It was really peaceful there. The birds were tjirping, the sailingboats passed by silently. All was well…..
And as often happens with adventures and overcoming obstacles we were rewarded.
Because, after the beautiful, peaceful, wide "Nieuwe Meer", on our way back, we discovered a lovely floating village! Full of admiration we looked around. There was even a floating pink Pippi house! And a pink, white canoe with pink flowers that served as a floating plant pot!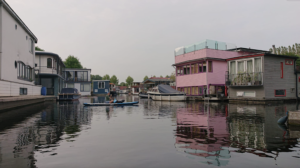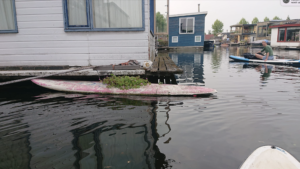 All in all, it was a great adventure with a big cherry as a final topping.
Do you also want to go on adventure and overcome obstacles? So that you can enjoy the fruits of your hard work?
Without having to carry a heavy board, lay on a board as flat as a pancake or row like a maniac to get to the other side?
But, with a guide next to you, that tells you which route to take. That sometimes pushes you a bit, or sometimes will slow you down. But, will always look at what you need, to attain your goals in a fun, pleasant, step by step manner.
Because that is so much better, more fun and quicker than having to discover everything yourselves throughout the years.
Then apply for my ONLINE module "Designing with Impact":
If you apply this week (20 to 27 June) you will pay 497,00 euro (for a month full of knowledge and feedback) instead of 750,00 euro.
You will learn:
How you will be far more strategic and effective in your preparation and how to really connect well with your audience.
How to make an iron strong presentation design that convinces your audience.
How you will present more natural and effortless with this method.
Do you want to know more about the online Module "Designing with Impact" go to:

https://presentingwithimpact.nl/triple-your-presenting-impact/
Interested?  Apply and send an e-mail to:  info@presentingwithimpact.nl