To more grip, impact and presenting success!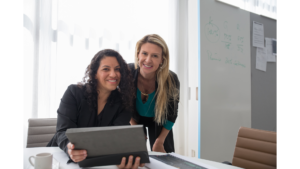 On a regular basis I give training or coach people who, unfortunately, did not have such a pleasant presenting experience. They either did not leave a professional impression at a conference, or a client presentation did not go well.
Likewise, a few weeks ago.
---
I was giving training to two very lovely women, both experts in their field. As it turned out, they had lost a project worth of half a million euros a few weeks back . Why? Their client presentation did not go well.
Does this mean that these women were untalented and did not deserve the project?
By no means. They were smart and real experts in their fields. However, because they did not know how to tackle the presentation, they weren't able to show their professionalism with it.
And this is so deplorable and unnecessary.
 We often think: "Ohh, a presentation, that's a walk in the park.
However, we often don't know:
Which factors play a key role and how to apply those.
How to connect with the client, right from the start.
How to prepare a successful presentation.
And this is very understandable, for you easily fall into certain pitfalls. Simply, because you want to do so well.
For instance, you end up getting entangled into the content and therefore lose connection with your client (literally and content-wise). And thereby consequently lose the contract…
Do you want to learn how to set up a successful presentation, so you can express your expertise and keep the connection? Do you want to know how to stay out of traps? Are you done with just muddling on and do you feel it's time to get serious?
Then sign up for the trajectory 1 on 1 coaching.
To more of a grip, more impact and more pleasure to present!

Translated by Wies Linssen