I am completely addicted…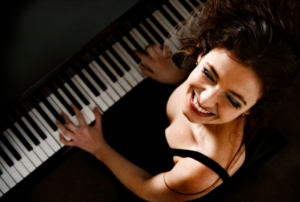 I have a new hobby.
You must know that I have a beautiful black piano, but until half a year ago, I hardly ever touched it. And look at me know.
Back in the days, so before the new hobby, you could see me sitting behind the piano with grinding teeth for not more than 15 minutes.
Because, well I was of the opinion that I simply had to do this at least once every half year. Otherwise, it was such a waste of this beautiful instrument in my living room.  And of practicing chords for years under the inspiring leadership of my piano teacher, misses Bogdanowicz.
And since half a year, I enjoy playing piano so much, that when I check my watch, an hour has passed by completely unnoticed.
What is making the big difference? 
---
My friend Daantje has introduced to me the App "Simply Piano". And I think it is the most genius invention ever. It is completely addictive and therefore a small miracle I can still find the time to write this blog.
Why?
Firstly, with the App a treasure with available music opens up. You can choose different genres: jazz, rock, pop, musical and film tunes. And how cool is it to play all those well-known songs from back in the days! And current ones of course!
My favorite numbers are: "Kids in America" by Kim Wilde, "Call me" by Blondie, "Enjoy the silence" from Depeche Mode, "Don't speak" from No Doubt, but also the tune from Downtown Abbey and "No woman, no cry" from Bob Marley and so I can continue for a while. (Hmmm, I am afraid I gave away my age group with this list ;-))
Secondly, you can choose the level that fits you. Every song can be played on low, medium or advanced level. For me the advanced level is a bit too difficult, and low is again too low. So, the medium level is perfect for me. It challenges me, but it does not discourage me.
Thirdly, before you start, you can let the app play the song first. This way, you have a good example, and exactly know, how it is supposed to be played. You can hear the nuances, the tempo rhythm. Which parts needs to be played staccato and where you need to slow down. This gives you a lot of grip and feeling for the song.
Finally, you do not need to turn the page, because the music scrolls down by itself! How cool is that! And furthermore, you can attach the app to your piano, so you will receive real time feedback, when you do not play a note correctly. This way you'll learn like lightening and that makes it super fun!
And this is exactly what you can expect from the services from PWI 😉
You can find a treasure of knowledge in my training. Models, background, exercises and theory that I have accumulated in 10 years' time and that have proven their value time and again.
I give my knowledge step by step, so that it is attainable. It challenges you, but it is not too complex, so that you stay motivated.
You can find loads of examples in my training. Because good examples are essential for learning and give you grip.
You get real-time feedback, so that you learn fast and much quicker than muddling on for yourself for years.
Today it is the last day and opportunity to apply for the Online Module "Designing with Impact"where you will learn everything to become a persuasive speaker. Working from your lazy couch, whenever is suits you. You will pay 497,00 instead of 750,00 euro for a month full of inspiring knowledge and feedback.
You will learn:
How you will be far more strategic and effective in your preparation and how to really connect well with your audience.
How to make an iron strong presentation design that convinces your audience.
How you will present more naturaland effortless with this method.
Approach:
You can finish the course within 4 weeks, working any time you want, from your comfy couch.
You will get feedback on all the exercises. So, that the pennies can drop, and you immediately know, if you are on the right track.
What did people experience that went before you?
"Theoretical knowledge and background about presenting that I had never known before."
"I learned to assess my audience so much better"
"Self-confidence".
If you apply today you will pay 499,00 euro instead of  750,00 euro.
Interested? Apply by sending an e-mail to:  info@presentingwithimpact.nl
Want to read more about the course "Designing with Impact" go to:

https://presentingwithimpact.nl/triple-your-presenting-impact/