How to Triple your Convincing Power from your comfy couch?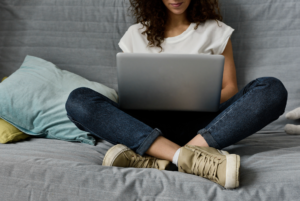 If we want to convince an audience, we especially need PATHOS.
PATHOS is a 2500-year-old term that Aristotle used to describe an element that is needed to convince an audience. It means the content needs to TOUCH the audience. It needs to come close, become concrete and MOVE the audience.
There are several ways to do that, but a common way of doing it, is to include and describe the situation/problem in a way that it appeals to the senses. The audience can feel and see and understand that this is something that needs to be solved.
Instead of saying I am going to talk about the alternatives of anti-biotics and then immediately jump into the subject matter.
You are more convincing if you include the WHY of the topic and explain and describe the problem and its consequences.
So, "painting the problem", layer by layer.
Do you know that anti-biotics within 10 years will no longer work? That we will go back to the level of 1939 in this respect. That is 80 years back in development. Not to mention the diseases that we will no longer be able to cure anymore.
That is why today I want to talk about alternatives. New promising ways that will prove….
So, you lay out the problem and its consequences layer by layer to your audience, to then as it were, remove the cloth in one go from the table like a true magician and reveal that this is why today you want to talk about this particular subject.
With first talking about the WHY, you figuratively speaking put what you want to talk about on a silver platter and hold it up in front of your audience.
Another way to add PATHOS is using the other angle. Cause, as you know a coin has got two sides. So, I could also do it the other way round.
I could say, I want to talk about the new software program, called Invention II and then immediately jump into the subject matter.
Or I could start with:
Imagine or how would it be if within one year we would have christal clear budgeting reports. That with one push on the button we would know our stock, we would know our cash flow.
 Can you imagine what that would mean for our flexibility as a company and how quickly we could react on particular situations like….? Today I want to present to you the software system Invention II and why I believe this is the right system and reveal to you what it could mean for us as a company.
So, now I do not describe the problem and its consequences, but what could be, the desire, the longing as a start.
Notice, that with the way I start, "Imagine" (seeing it) or "How would it be" (feeling it), I invite the audience actively to use their senses and go with me into this "future reality", namely, to see and feel it.
All in all, two good ways to MOVE your audience and CONVINCE them.
Cause the subtext between the lines is. We need to invest in new promising alternatives to anti-biotics. Or it is worthwhile to invest and purchase the Invention II system, cause the rendition for our company will be plentiful.
Do you want to know more super ways to convince and move some steps further than "Painting the problem" or "the desire", the 2.0 convincing power?

Then apply for the online module "Designing with Impact". Here you will triple your convincing power, because:
You will learn to make an iron-strong presentation design.
You will learn how to really connect to your audience.
You will learn the ins and outs about convincing, based on rhetoric's and current scientific research.
You will be able to follow the course in your own time and from your comfy couch.
This week a summer deal is valid for this online Module from 20 to 27 June. If you apply this week, you pay 497,0 euro instead of 750,00 for a month full of knowledge and feedback.
If you want to apply, send an e-mail to info@presentingwithimpact.nl
Do you want to read more about the Module Designing with Impact?
 Go to: https://presentingwithimpact.nl/triple-your-presenting-impact/
Or do you want to?:
Learn to tame your nerves in one day? So, you feel firmer and more confident.
Learn to present clearly and engagingly in one day?
Follow 1 on 1 coaching? In 3 meetings of 3 hours each, you acquire a strong presentation foundation. Where you may profit from and fall back on for years to come.
Send a mail to info@presentingwithimpact.nl and I will be happy to inform you.