"Whisking Up Excellence: how Julia Child's Approach Applies to mastering Presentation Skills as an Expat and Dutch professional"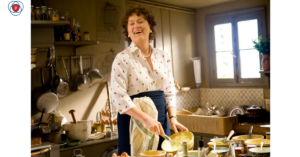 Take a chance, be bold, get help, persevere, and do not take yourself too seriously.
This is the message that I got from watching the lovely HBO series "Julia". A biopic of the life of the famous chef Julia Child that learned America, French cooking.
Julia Child was widely popular in the US in the seventies. She wrote the classical cookbook "Mastering the art of French cooking" and was the first to present a cooking show on television.
How did she achieve this?
How did this woman attain, what she did?
And what was her recipe of success?
In the series we can exactly witness the 4 important steps that led to her success, making her the master chef as how she is regarded today.
BEING BOLD We can see that Julia takes some bold steps at the start of her journey. She takes control by writing a letter herself to the television studio, pitching her idea. After a long time, in which the studio tries to brush her off, she finally gets invited for a talk. Only to discover that they cannot produce a cooking show. It would be simply too expensive with all the added groceries.
Immediately, she replies that that is not an issue, she will take care of it. Although, she lacks the means, she eventually finds a way to pay for all the costs. She simply wants it so badly.
GETTING HELP When the moment is there. Julia freaks out. She realizes she has never done this. But what does she do? She gets in the troupes. With some friends and her husband as support, she practices the whole weekend, so that she is ready for her first pilot.
DO NOT TAKE YOURSELF TOO SERIOUSLY When the time is there. Julia enters the studio and realizes that the kitchen is quite different. There is an electrical stove instead of gas. How on earth is she going to manage now?
And indeed, quite some things go wrong. The chicken falls on the floor. To comment into the camera, "When you're cooking and no-one sees your chicken falls on the floor, just wipe the fluff off." And when the fire goes too high in the air, she makes another joke about it.  Instead of finding fault with this enthusiastic cook, the audience simply loves her for it.
PERSEVERE. It is not plain sailing after this. There are still some hurdles on the road, that need to be taken. But Julia perseveres. With her wit, her support system, and her creativity.
And Julia's steps are exactly the steps that you need to take to become a Master Presenter. Her recipe is your recipe.
Be bold, get help, not always take yourself too seriously and persevere.
And that is exactly why I created "the presentation Mastery Program" last summer.
Where you will be trained, supported, monitored, and coached for 4 months on a row. Focused on getting results and embedding and integrating your skills in your work.
I will provide all the necessary ingredients and will create the perfect environment. You only have to come up with ingredient one and two.
We will walk the road to mastery together.
This program is for you if:
You are ambitious and you would like to learn to present in an effective manner and excel at it.
You are an Expat or Dutch professional working in an international organization.
You are open-minded and like to learn and experiment.
You enjoy learning from a group.
You can spend a few hours for assignments and preparation in between meetings.
For more info go to: Presentation Mastery Program
To more grip, impact and presenting pleasure!
Note: Picture of Meryl Streep playing Julia Child in the film Julie & Julia.