From misleading information to true development.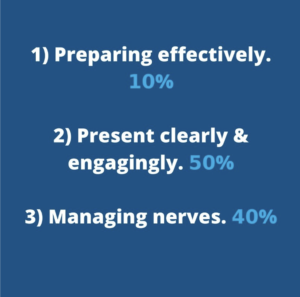 Last week I did a poll, with the following question:  what is your biggest challenge when giving a presentation?
As you can see "presenting clearly and engagingly" is the biggest challenge for most people, while "preparing effectively" in on the last place.
Although this is a truly small poll, only 10 respondents, it does support a strong belief I have for many years.
And that is.
---
We think we know how to prepare, hence the low percentage. But this is not the case.
Because, if we would know how to properly prepare.
We would present clearly and engagingly.
Our nerves would play a lesser part.
So, the problem here is a bit like trying to run, because we think we can walk.
Why?
Because when you properly prepare:
You'll connect with your audience.
You'll have an eye for time-management.
You'll attain your presentation goals with ease.
You'll present fluently because you practiced out loud (part of your preparation). And
Practicing out loud, helps getting your nerves down.
And, if we do not prepare properly.
People tune out, because we try to put a big elephant  (too much information) in a tiny box (presentation). And we unjustly think it is because, we are not engaging speakers.
We do not come across as convincing and professional, because a lot of energy goes to retrieving the information and as a result there are a lot of  "ehhs". We unjustly think, we are not talented as a speaker.
We've lost overview and we've lost track. Which is normal, if you try to put too much information into a presentation and if you do not practice before.
We get really nervous, because how to get all this information to the other side. (complete and faultless) Again, which makes total sense. I would for sure.
The danger, however, will be, once you learn how to properly walk, you might start thinking you are a talented speaker . Because your running will be so smooth and feel great.
To more grip, impact and presenting pleasure!