What can Dolly Parton teach us about presenting? A lot as it turns out!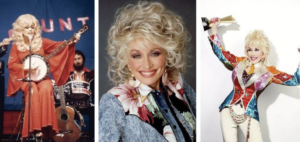 A week ago, I was watching an old conversation between Dolly Parton and Kenny Rogers. The veterans were discussing their long career and some interesting revelations and stories were shared.
I love Dolly Parton. The over the top outfits, the big hair, the long nails, the southern America accent and of course her songs. I find it all equally fascinating. Coupled with this is that she may look like a blond "dolly", but she is smart, self-deprecating and wise. As it also turned out to be the case in this particular conversation.
During their talk, they were teasing each other, but also giving each other compliments. At one-point Kenny expressed his admiration by saying:
"When recording a song. Your vocals are always immediately finished, you get it right immediately the first time."
In her typical southern American accent Dolly replied:
"I guess it has to do with the old days, when you only had 3 hours for a session. You did not have time to go back and do it 52 times. You knew you had to get it as right as you could".
"So, what I did, I practised!"
"Ohhhh, so that is what it is. You practised." Kenny replied.
"Yeahhh, you need to practise".
After, so many years the truth finally reached the surface.
All this time, Kenny had thought it was some magical power that Dolly possessed. But it turned out to be so much simpler. It came down to good old "down to earth" practise!
Why this story, you may ask?
Because, this is what often happens. Many people that I teach feel that "other people" can present really well, because they simply have that talent. They just have this magic!
And this is a big misconception!
What they do not realize is that "those people" work and practise hard and invest in their skill to make it look "finished", "professional" " talented" and "easy".
Does that mean that you have to learn everything by heart? Or that you need to slave away and spend countless hours on a presentation to make it work?  That it is a fact of live that you need to accept the learning process will take 10 years of blood, sweat and tears? To eventually reach that level and possess that magic?
Is that what is takes?
No that' s not the answer either.
The truth can be found in the middle, as is often the case.
You have to do the work, but you need to do it in an effective and smart manner.
You need to know where you are on the road and what you specifically need to make these steps quicker.
You need to spend energy on the right things.
Do you want to know what this might mean for you?
Then e-mail to info@presentingwithimpact.nl and I will be happy to inform to you.
Kind regards,