New Year' s Gift!
Tool to quickly make a presentation that rocks!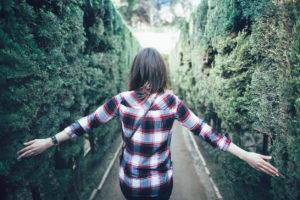 Walk quickly through the presentation labyrinth.
In October last year something odd happened. I asked a training group to walk through a certain presentation structure on the spot. Imagine pieces of paper organized on the floor, each presenting a stepping stone of that same structure.
This was a bold step. Because, I thought it would be too challenging for the group. I decided to give it a try anyway. But the opposite of challenging seemed to be the case.
It was even more surprising. Without too much effort and a few minutes of preparation, they managed to bring a crystal clear and engaging story. A story that rocked. All by means of the structure on the floor. 
A presentation that was actually far more clear that the one they did the previous week, which they had prepared extensively. A presentation some admitted they kind of struggled with.  
How on earth was this possible? That in a few minutes, with hardly any preparation they managed to pull off a strong presentation on the spot? And not one person, but the whole group?
What was going on here?

I realized that a good structure can be as your perfect guide. It puts clear signs along the road, telling you to turn left, right, or make a short stop. So instead of wandering through the labyrinth, going deeper and deeper in the maze, a good structure brings you quickly and directly to the other side.
How is this possible?
What is it exactly that a good structure can do?
It allows you to focus on only one thing at the time; filling in the structure according to your presentation material.
It prevents you from going into too many side ways, dealing with too many parts of your subject, or staying with one too long, which will only weaken your presentation and make it unclear.
You are forced to focus on the essence.
You follow a structure that connects to the audience, instead of only presenting from your viewpoint or content and content alone. (think jargon, not hitting the nail, not thinking from your audiences viewpoint).
It saves you a considerable amount of time.
 Because of all of the above reasons, a new year's gift for you!
Two super simple and effective structures.
So that in the new year, you will not get lost in the maze, but will make a presentation in an effective, goal-oriented manner.
Would you like to receive this tool?
Please send an e-mail to info@presentingwithimpact.nl.
Do not foget to mention your name and tool in the mail and I will make sure you'll receive it!

Last but not least I wish for you a year that rocks!
Have fun and learn!

---
Unique new program!
Do you want to experience freedom when you present?
Do you want to become visible in a professional manner?
Do you want to transform into a professional and effective speaker in a few weeks and 7 attainable steps?
Check out this great program that starts on January 20!
Click on the  " READ MORE"  link for more information!