How to fix it, when your speaking is not fluent and rusty as an Expat or Dutch professional?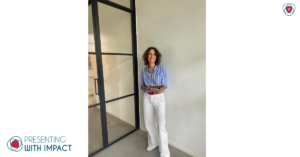 Soon it will be autumn, having to get on your bike when it is windy and wet. After a while, at least if you keep your bike outside as I do, you'll discover that your chain will get rusty.
Because this already happened to me several times. I am prepared now and I keep a little green bottle with red cap in my hallway, so when the time is there, I only need to grab it, oil my chain and let the cycling do its work. And voila, it will run smooth again.
And this is exactly what you need to do when you find yourself rusty when presenting.
You might have to look for words. Maybe there are a lot of "ehhs". So, it can be that your words find their way a bit haphazardly to your audience, instead of effortless and fluent. As if you are on your bike and cannot cycle through. You keep getting stuck. Very frustrating.
So, metaphorically the same remedy here applies. You have to oil your speech, so that it flows instead of getting stuck and then having to get unstuck again.
So, how do you oil your speech?
You oil your speech by practicing out loud. You pave the way. You give it a run through.
This does not mean that you have to learn it by heart. It means knowing the steps you want to take with your audience. For instance, tell them why your presentation is important. And practice answering that question in your own words. This way you know where you stumble, which words are not on the tip of your tongue. This is how you pave the way.
Good luck!

To more grip, impact and presenting pleasure.
#presentationtips, #presentationskills, #presentationtraining, #presentationtechniques, #presentationskillstraining