3 transformational tips to move your presentation from a "read-along" to an engaging one.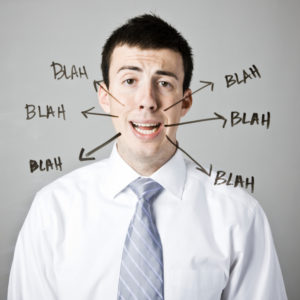 When you need to present data or an update of your work it is very tempting to just make a summary of all the loose data and bits and pieces of information and simply put them in PowerPoint.
Being complete and having the correct data in PowerPoint seems to be the correct foundation and preparation for your presentation.
But is it?
Having this preparation often puts the presenter in a "newsreader mode" while presenting. Simply, repeating what is on the slides. There is too little cohesion, no intriguing questions being answered, no story.
The presenter is merely skimming over the surface, summarizing point after point, in a listening fashion, that does not seem to have an end for the audience.
This is no fun to present. It is almost impossible to be an engaging presenter, having to bring across an endless list of facts or "loose bits and pieces".
As a presenter, you feel stuck in the "newsreader groove". There is not much else to do, then state, bit after bit.
But, even worse, presenting your data like that, is not involving the audience at all. They are going to tune out pretty quickly and feel that they are wasting their time.
So, in a nutshell it is a "lose – lose" situation on both sides; for the presenter and the audience.
So how, can you create not just another meeting, but give your audience meaning?
How can you prevent yourself from falling into the newsreaders pitfall?
How can you keep both sides happy?
See, 3 tips down below.
TIP 1
Do not immediately put all the information in PowerPoint.
First draft an overview. Do not get lost in the details! Try to find your angle and story and make choices in material. See also point 2 and the presentation foundation document.
If you put everything in PowerPoint immediately, you will chunk too much information in too many separate slides. This will be perceived by the audience as a long list of loose bits and pieces.
First you need to see, the bigger picture, so you can make more a story out of it and make a choice in material.
So instead of loose bits and pieces..
"And then I did this, and then that, and then I did this, and I also did that."
Make more a story out of it and make a choice.
"In this presentation I would like to share the 3 most important findings of last quarter. I would not only reveal them, but also let you know what we can learn and conclude from these findings, so that you can ……"
The above is a story….
Or,
"The big question of my research last quarter was, how can we solve the problem of emissions, but at the same time make the solution cost effective?"
The above is a start of a story.
TIP 2
Ask yourself questions.
What is the red tread here? What is the story in those figures, data? What are the conclusions and lessons to be learned here? What is interesting for the audience? What is the meaning of what I want to say?
When Steve Jobs made a presentation of the new features on the Iphone, he did not merely go through a checklist of features. And the Iphone can do this, and it can do that, and it can do……
No, he planned clever scenario's, situations. (little stories, instead of merely mentioning a list of features). So, showing how you can talk to a colleague, in the situation while he is trying to call you. Or how you can check your visual voicemail, when there is a meeting and you do not want the volume to be heard.
TIP 3
Data and numbers can be captivating if you move beyond just spouting the data.
It is your responsibility as a presenter to do more than just sift through data and pass it on; we must help our audience gain insight contained therein. Give meaning! 1
We must design the message in a way that leads your public on a journey of discovery.
For instance, by using questions throughout your presentation.
But, why is this significant? How come this figure is so huge. What does this really tell us??
Besides the above, you could for instance also make little stories for each slide.
How?
Every story has a beginning, middle and ending. In this way, you can make a story of every slide.
Instead of only reading the bullet point on your slide, you give your data more meaning and you move beyond just "spouting the data by introducing the slide in the form of a question.
So, what are the most important factors that play a role in this? (step 1)
Then, step 2you start explaining, with examples underpinning it.
Step 3: you end by making your point. So, in a nutshell….or, this basically means ….
So, use the DAG tips, instead of putting yourself in the "newsreader mode" and please the both you, you and your audience!
Good luck!
Draft an overview.
Ask yourself questions.
Give meaning.
Source:
1 p. 117 Resonate. Nancy Duarte.